Battle of the Clan 2018 23/6 & 24/6 Gift Internet Kajang Indah
MAT is going to host Battle of the Clan 2018 tournament at our sponsored venue Gift Internet Kajang Indah on 23/6 and 24/6 this upcoming weekend. 18 teams will be competing each other at round robin to get top 4 of each group advance to second day final double elimination.
Group Draw Result: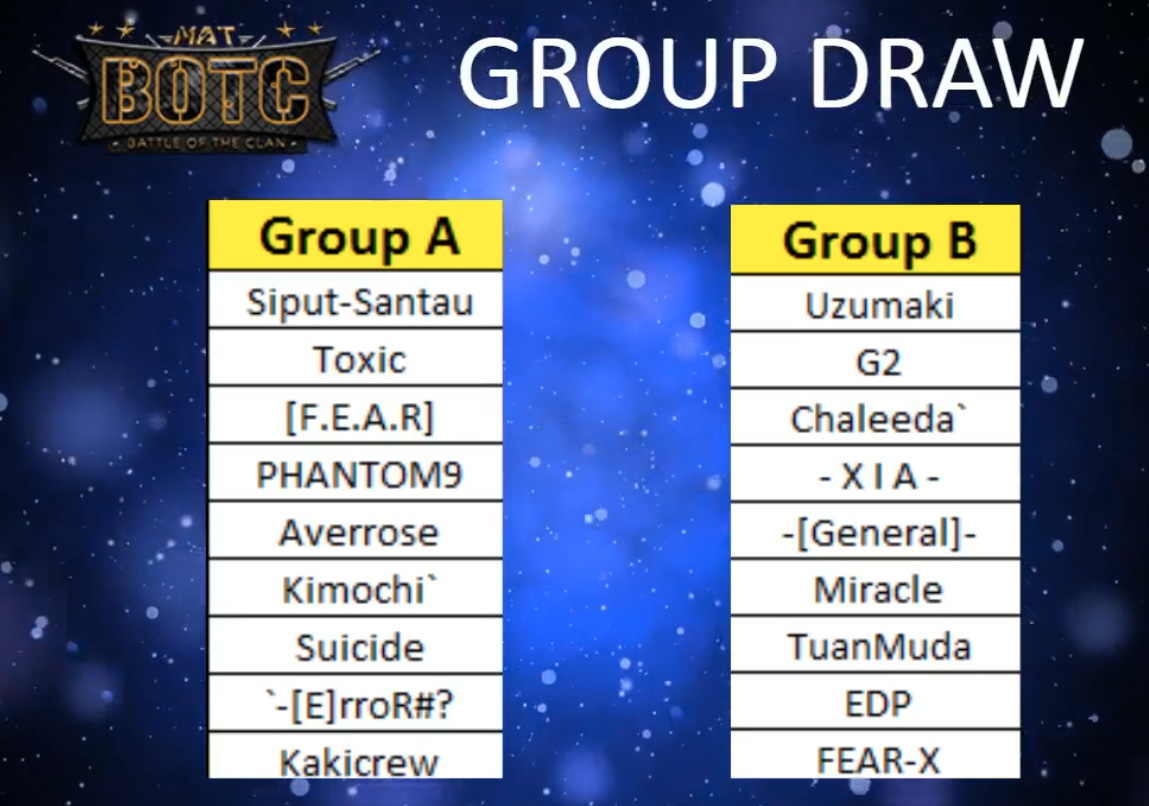 We can see it will be intense competition between all the teams as they are popular clans from MAT tournaments, these clans are experienced and we hope they will play their best to final.
The rewards for BOTC 2018:
Reward:
Champion: RM3, 000 + 40,000 Mpoints
1st Runner Up: RM1, 500 + 20,000 Mpoints
2nd Runner Up: RM800 + 10,000 Mpoints
3rd Runner Up: RM500 + 8,000 Mpoints
4th Runner Up: RM200 + 5,000 Mpoint
BOTC 2018 Sales Promotion:
Only RM10.00 you can own all these exclusive items for yourself? You are right, reload RM10.00 then you can have the following items to enjoy MAT.
Package includes:
- Any weapon x20 days (Only main weapon rifle/sniper until 8 star)
- 8.5 star x15 days (Select only one Brigh Sky Moon, Bloody Twilight, Light of Dawn)
- Black and White Ghost Officer Suit [M/F] (FREE)
- Bluey [Grenade] (FREE)

How to get this awesome package?
1) Visit Internet Cafe Kajang Indah and purchase CIB Point card on the spot with our staff 23/6 and 24/6
2) Reload on the spot and fill in the form of your package item selection
3) Item will be delievered within 4 working days
4) Limited stock available
For those who unable to join the event, you may watch livestream on our MAT official Facebook page: https://www.facebook.com/DoomsdayGame/ and we hope MAT players could support us for the event.