Attention MAT Soldiers,
MAT are pleased to announce the first time we are having sales promotion with DiGi for the month of September. We are offering all MAT players a chance to own a series of in-game items of their own choice.
Event Period: 1/9/2017 – 10/9/2017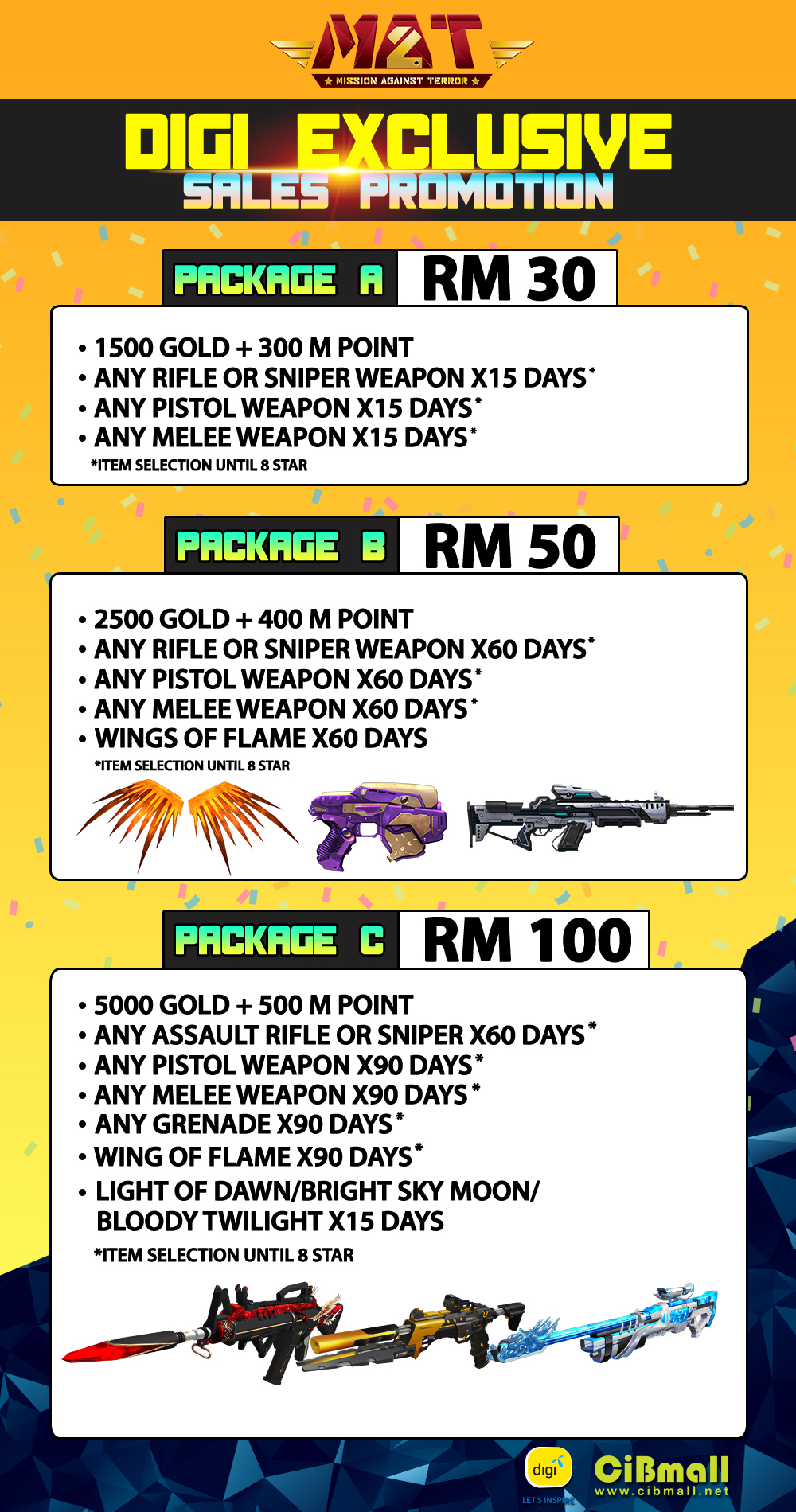 How to join DiGi Sales Promotion?
1)You are required to use ONLY DiGi channel to reload the game during the event period
2)You are required to use this website to reload Digi: http://mat.cibmall.net/payment/ (Select Digi Payment)
a)Digi Prepaid Card Reload guide: http://bit.ly/matdigi
b)Digi Direct Credit guide: http://bit.ly/matdigidirect
3)After you have reload the DiGi, please click the the following link to order your package accordingly:
a)Pacakge A (RM30): http://bit.ly/digipackA
b)Package B (RM50): http://bit.ly/digipackB
c)Package C (RM100): http://bit.ly/digipackC
Terms & Conditions:
1)You are required to reload the amount of RM30, RM50, or RM100 with correct transaction, we only recognize and deliver your purchase based on the above transaction amount
2)The purchase items do not include item from the patch 21/7/2017 until end of September or all PVE rewards
3)Event Period: 1/9/2017 until 10-9-2017 (We will renew the event on 11-9-2017), purchased item will be delivered at 11/9/2017 on-wards within 3 working days
If you have further inquiry regarding this event, you may contact our MAT Official Facebook Page or Customer Service.
Regards,
MAT Team